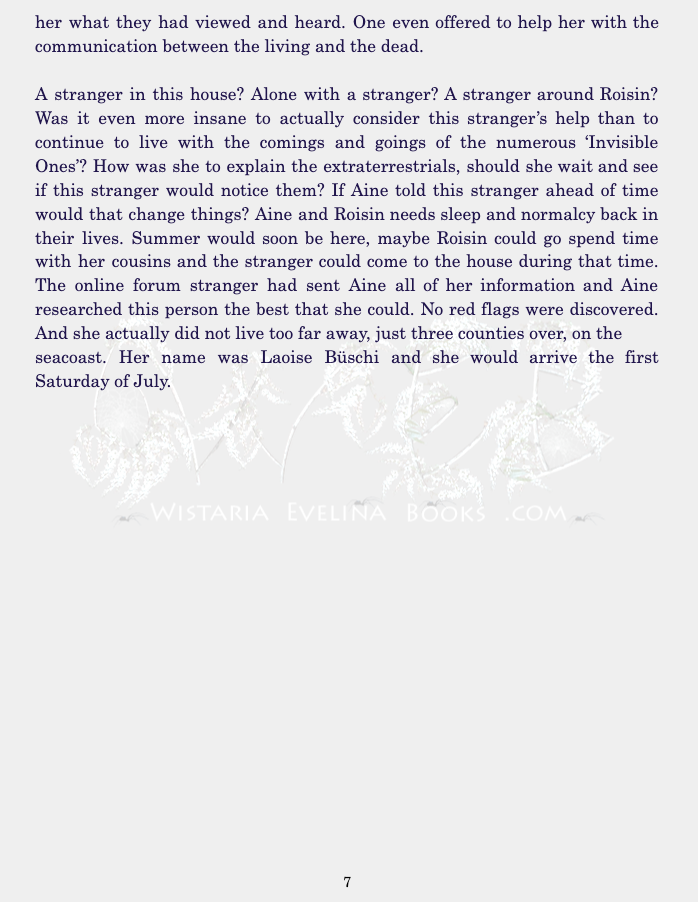 Living With the Invisible Ones - The Story of Aine and Roisin, .pdf
Product Summary
This is a .pdf file of Wistaria Evelina MacTully's debut novel, Living With the Invisible Ones - The Story of Aine and Roisin. The file size: 1.3MB. Page count: 373. Average read time: 8 hours.
This story is for a Mature Audience.
Novel Summary
The M'Nele family moves into their new home to discover that they are not the only ones living in the house. With the help of a powerful Seer, Laoise, the family tries to discover who the others are and how to deal with so many coming and going, and staying in the house.
After having learnt to live with the dead, fear still lingers through Aine's bones, as the other Invisible Ones have yet to be figured out.
Soon they would know exactly who these other Invisible Ones are, as the mother and daughter are abducted and forced to live aboard the alien spaceship, Urushika CS19631701.
Aboard the spaceship the mother and daughter would befriend their captors, the Nermaerians, who would discover that they are captives themselves. Through the use of a geneticist lab these aliens were designed to be easily controlled. Through a discovery of their past, and with the mother now severely sick, the aliens seek to return the mother and child to their home.
After returning to their ship they seek to start a rebellion to free themselves from their tyrant leaders, the Elders.
A journey of twists and turns awaits you in this ghost tale like none told before.
What becomes of the family?
What becomes of the extraterrestrials and the deceased that inhabit the house on the hill?